Nkwashi will host more than 9460 residential plots, with sizes ranging from 360 square meters, 505 square meters, 670 square meters and 1300 square meters. Our house plans are designed by among the best architectural firms on the African continent and will be made available to plot owners. These are provided by designers of the V&A Waterfront and the Green Point football stadium in Cape Town, which was part of the 2010 FIFA World Cup games Plot owners will benefit from amazing panoramic views, completely paved streets and roads, water and sewage services, electricity lines across the whole estate, and of course unrestricted access to its gardens, lakes and parks. Residents will have all the benefits of city living, but all the breath taking views and fresh air that come with great open spaces out of the city.
Buying a Property at Nkwashi Town
Purchasing a property at Nkwashi is incredibly simple. All we require is that you review and fill out our property purchase application form. If happy with it, select your ideal properties, sign the application form and provide us with basic information on yourself such as your ID, and proof of employment. Once we receive it, we will review it and provide you with feedback on the status of your application (successful or otherwise) within a few minutes. If approved, you will be required to review the contract of purchase and if happy with it- sign and submit it to our Customer Consultants. Payment plans for plots at Nkwashi are for the maximum duration of 20 years, buyers are free to pay faster than that should they wish to do so; anything from a lump sum payment to 2 years, 5 years, 10 years or the full maximum length of 20 years. For cash prices please visit our showroom in Lusaka for details.
Residents of Nkwashi will hold title to their properties. These will be registered with the Deeds registry at the Ministry of Lands.
Purchase of a property at Nkwashi is made by application. Prospective residents must select a property from the available inventory of properties within each suburb. Prospective residents may apply to purchase more than one property. Applications will be reviewed and if successful,  approval will be provided within a few minutes of submission. Once an application has been approved, the contract of sale between Thebe Investment Management Ltd and the purchaser will be signed. All residents will have equal and full access to the town's parks, lakes and green spaces. Residents can immediately start construction of their properties subject to approval from the town management team.
| Plot Types | Property Size | Monthly Rates | House Size |
| --- | --- | --- | --- |
| Starter | 360 sqm | ZMW 300/month | 2-4 bedroom house |
| Basic | 505 sqm | ZMW 450/month | 3-5 bedroom house |
| Standard | 670 sqm | ZMW 650/month | 4-6 bedroom house |
| Premium | 1300 sqm | ZMW 1800/month | 5-7 bedroom house |
The Starter Plot
The starter plot stand is 360 square meters and its rates are ZMW 300/month. Home construction on this plot is available in three different construction styles: Mediterranean, Prairie and Modern. The home construction plans for the starter plot all consist of double storey designs as opposed to bungalows in order to maximise the use of land for spacious gardens, large play areas for children as well as family gatherings

Mediterranean Starter House - Perspective

Modern Starter House - Perspective

Praire Starter House - Perspective
The Basic Plot
The Basic plots sits on an area of 505 square meters each. Like the starter plot, home designs are also available in three different construction styles: Mediterranean, Prairie and Modern. The home construction plans and house designs have been designed as bungalows with the view to maintain a robust family lifestyle. Its scenic views of the Zambezi escarpment and close proximity to the parks and lakes provides a tranquil and safe environment to live, learn, work and play. Monthly rates on these properties start at ZMW 450/month.

Praire Basic House - Perspective

Modern Basic House - Perspective

Mediterrean Basic House - Perspective
The Standard Plot
The standard plots are each approximately 670 square meters in size. These properties are no exception to the starter and basic plots as it they are also available in three different home construction design styles: Mediterranean, Prairie and Modern. This plot type is catered for large families in need of more room and ample living space which is sufficient to accommodate additional guests. The location of the standard plots make it a good investment as they are strategically placed at the heart of Nkwashi's business hub and educational facilities. The monthly rates on these properties are ZMW 650/month.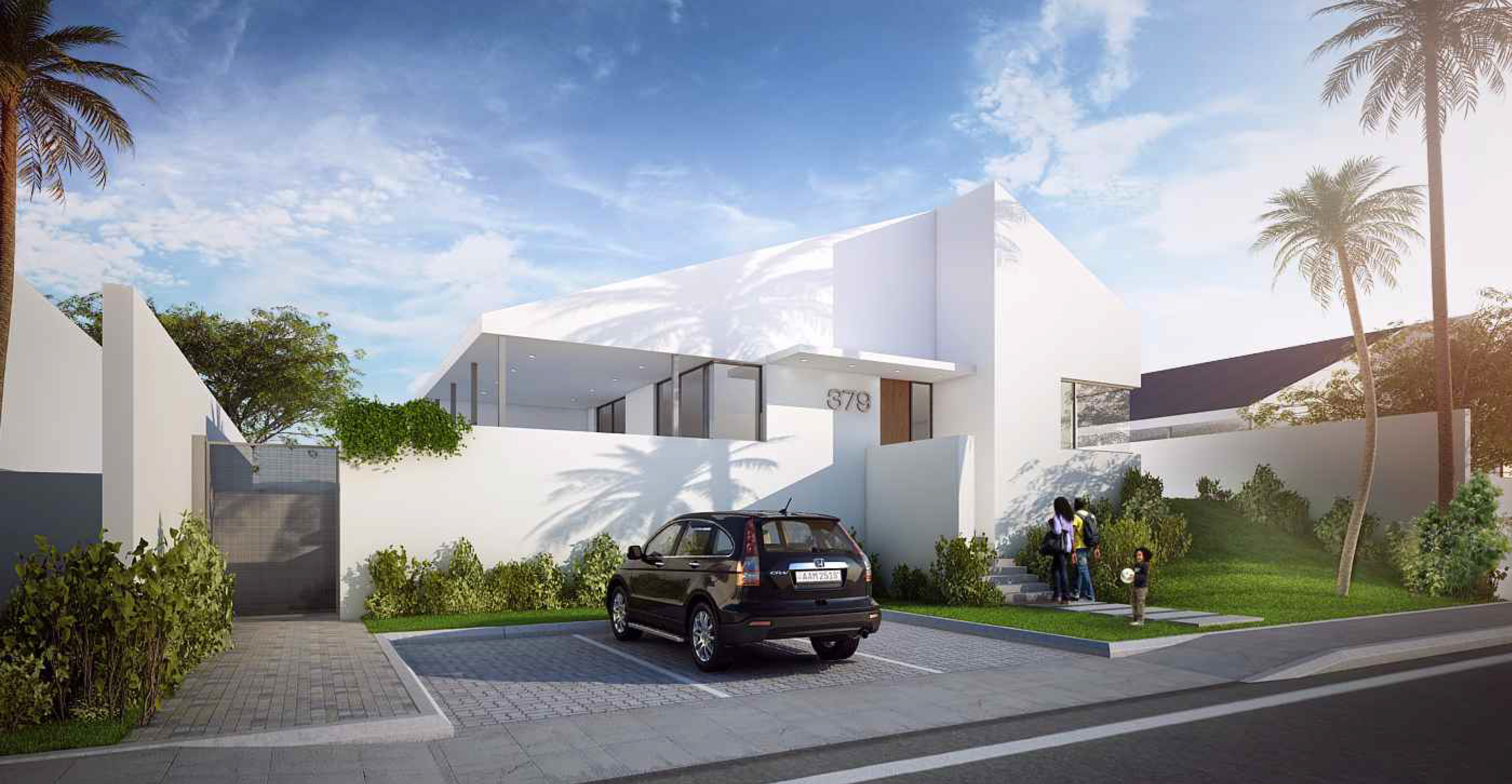 Modern Standard House - Perspective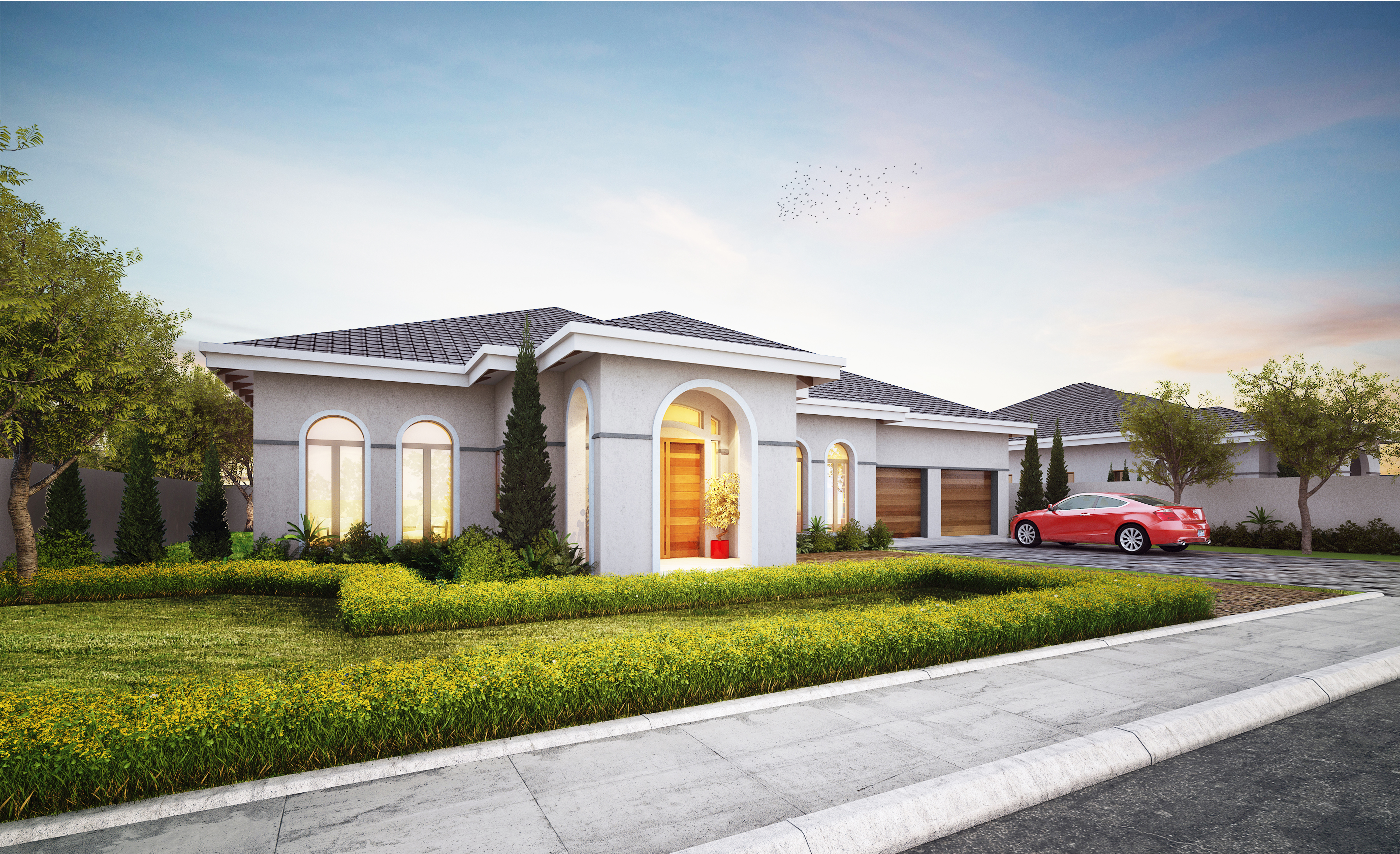 Mediterranean Standard House - Perspective

Praire Standard House - Perspective
The Premium Plot
The premium plot is the cream of the crop out of all four plots and sits on an area spanning 1300 square meters. These properties come in three different luxurious home construction design styles that provide for all the needs of modern day high-end housing like a Library/ Study area, scullery's, laundry rooms, adjoining garages and self-contained bedrooms overlooking beautiful lakes. The premium plots are the best location for a holiday or a retirement home with its breath taking views and spacious surroundings. The monthly rates for premium plots are ZMW 2,000/month.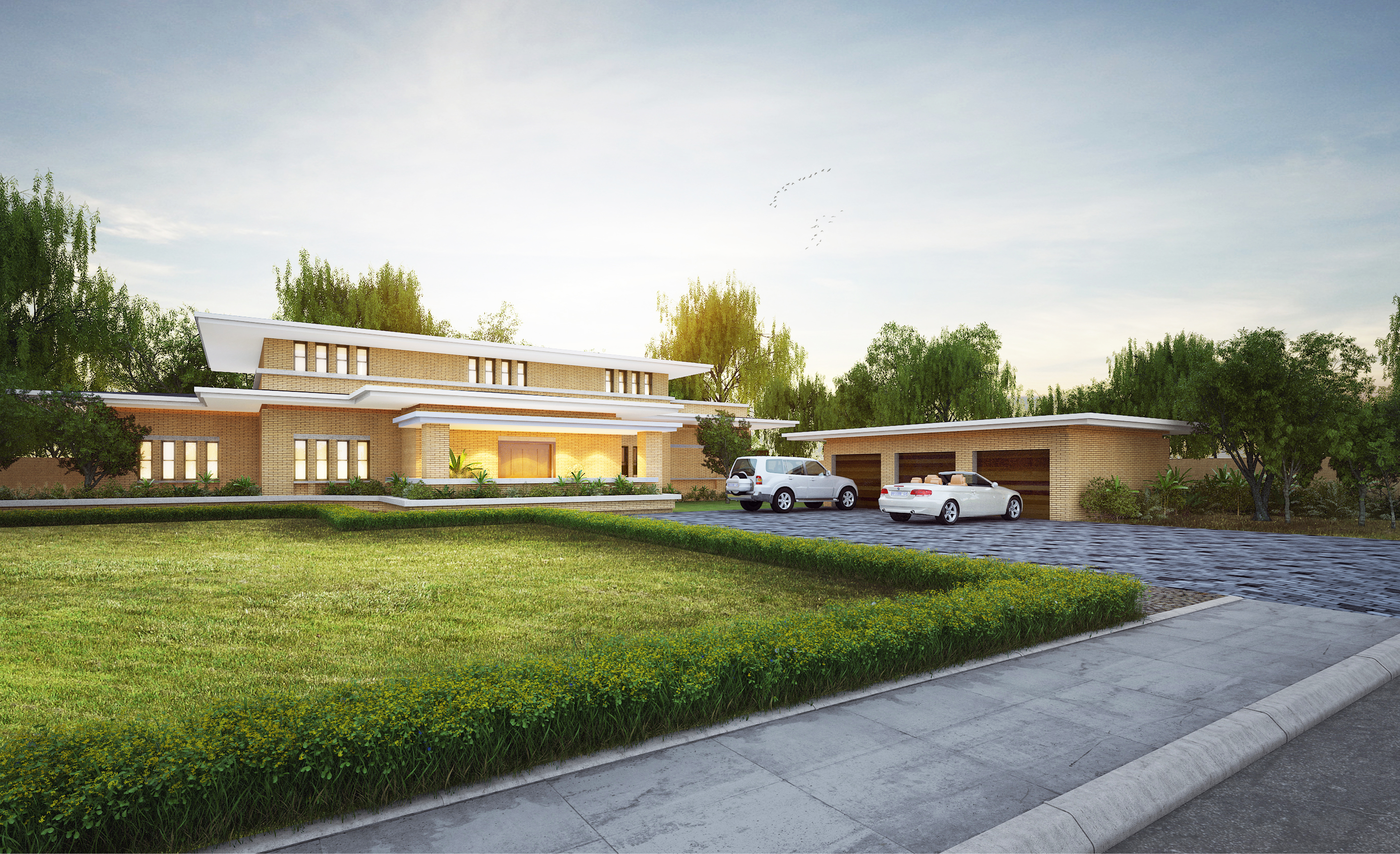 Prairie Premium House - Perspective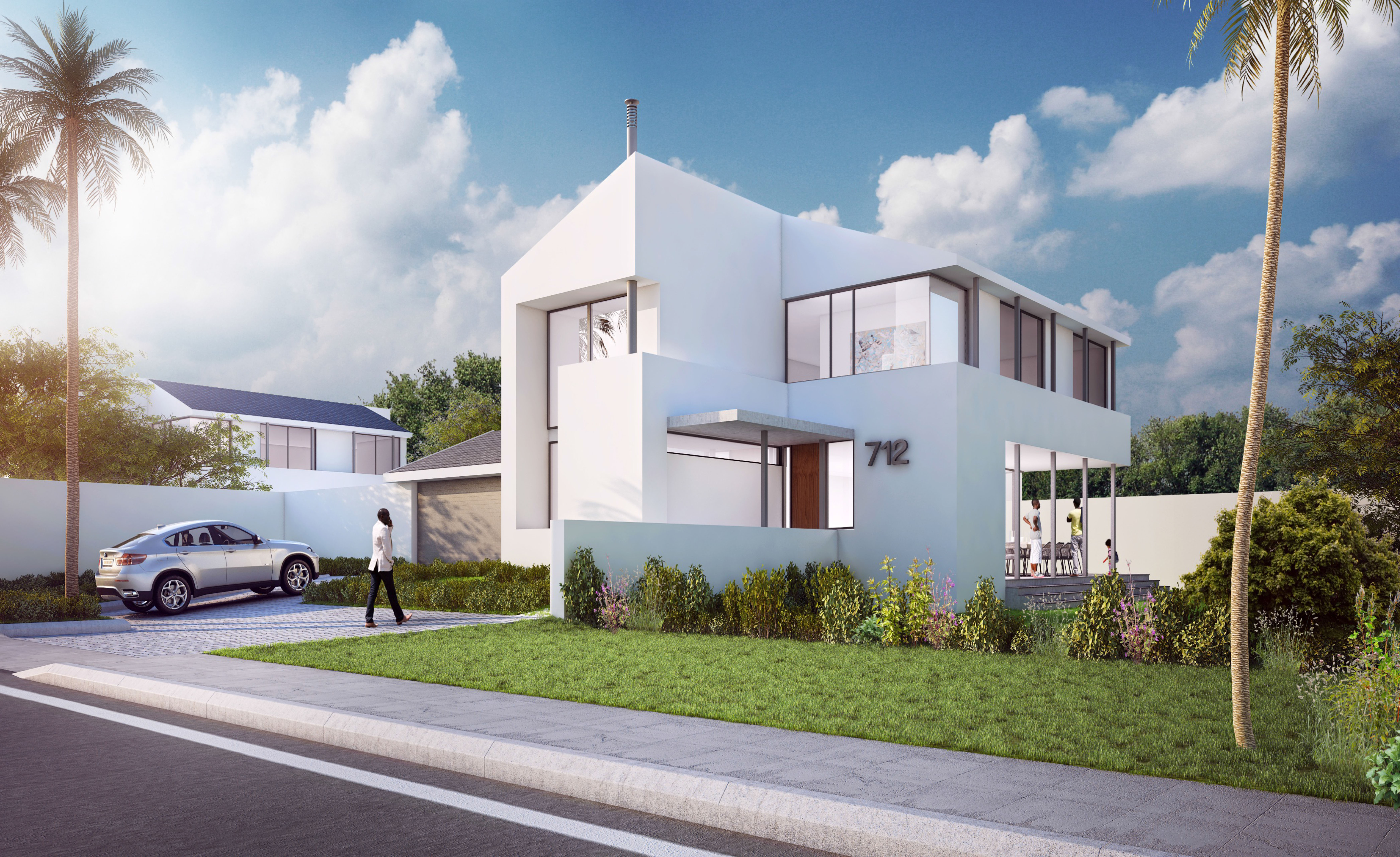 Modern Premium House - Perspective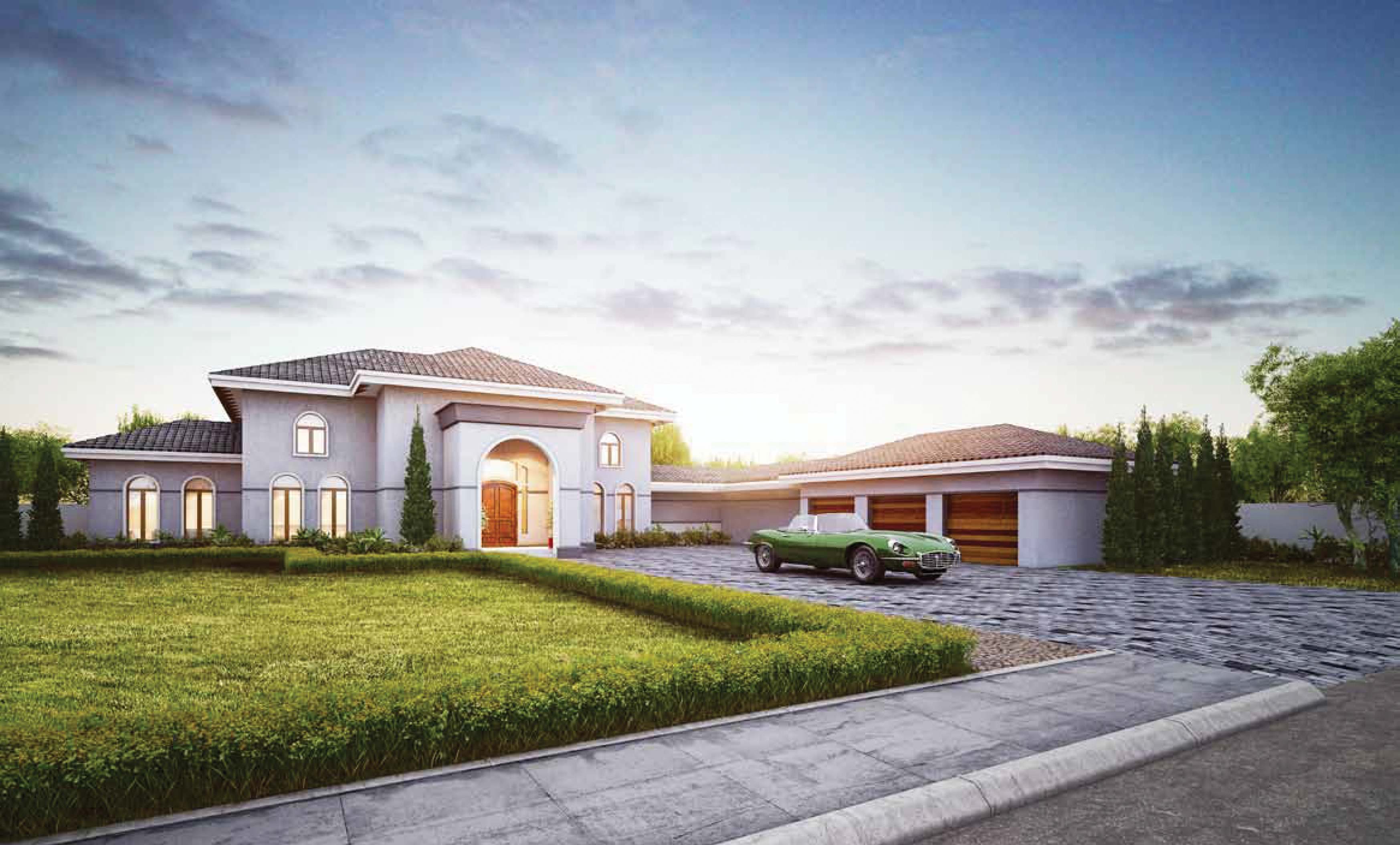 Mediterranean Premium House - Perspective
Residential Districts
Nkwashi has been designed to function as a fully self-contained and modern city. It will have its own central business district, several residential districts, an education district, several green spaces, fully paved roads, centralised water and sewerage networks and even its own democratic self governance system. In many ways, it will be Zambia's best planned and most modern city.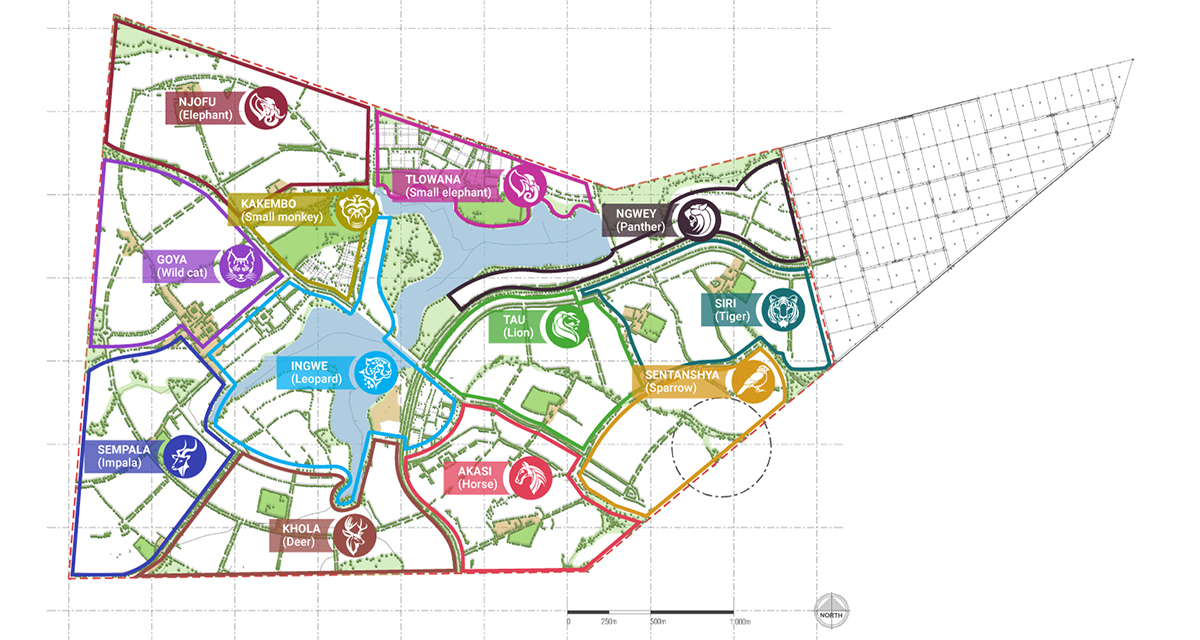 12 District Areas
Nkwashi's residential areas will be divided into 12 district areas. These district's will each be unique to the other, with subtle differences in landscaping. Each district will also consist of a maximum of three suburbs with approximately 300 properties each.  Every district will be individually governed by representatives elected by its own residents. All together these representatives will constitute the town's general assembly, which will represent the interests of the town's residents. The general assembly will also select from its own members, a board of governors who will together be responsible for ensuring that the general welfare of the town's residents is well cared for. Our goal is to ensure that Nkwashi is the best managed town in the country. This will require all residents to commit themselves to the town's democratic principles and values, as well as its strict environmental and aesthetic standards. Nkwashi has been designed for people who aspire to live their lives to the best of their potential.
NJOFU (Elephant)
TLOWANA(Small Elephant)
KAKEMBO (Small Monkey)
NGWEY (Panther)
GOYA (Wild Cat)
TAU (Lion)
SEMPALA (Impala)
INGWE (Leopard)
SIRI (Tiger)
AKASI (Horse)
SENTANSHYA (Sparrow)
KHOLA (Deer)
* Prices in the tables above are subject to Terms & Conditions. The home construction costs are merely indicative and therefore bound to change because they are based on one's preferences of building materials as well as interior fixtures and fittings.
Nkwashi will regulate through its Home Owners Association a Shuttle Service that will enable residents to take a comfortable bus ride into the Lusaka CBD and back into Nkwashi. This will allow residents the option of choosing whether to drive into Lusaka for their commute, or simply take the comfortable Nkwashi Shuttle Service.
Finally, NHOA will enforce shared values, standards and practices among the residents. Included in this is enforcing will be agreed standards in the construction of houses in accordance with the plans. The purpose of which is to ensure that the quality of buildings across Nkwashi remains high, and as such helps preserve the value of homes belonging to residents.